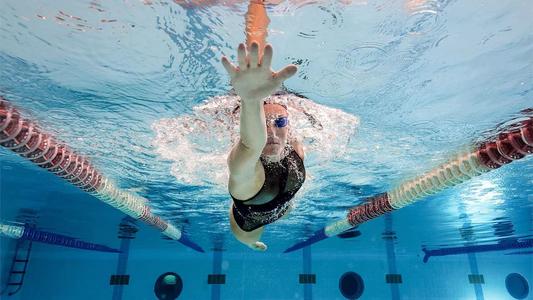 Swimming Competition Sports for Kids
Swimming is an essential lifesaving skill, plus an excellent form of exercise. Are lessons or competition in swimming or diving right for your child?
Children's Swimming and Diving Competitions
The basics: In competitive kids' swimming, athletes compete using one of four strokes: freestyle (sometimes called the crawl), breaststroke, backstroke, and butterfly. A race using all four strokes consecutively is called the individual medley (IM). Swimmers may also compete as part of relay teams. They may swim distances of 25 yards, 25 meters, or 50 meters; the Olympic standard is 50 meters.
Divers compete in two kinds of events: springboard and platform diving. In each, the height of the diving board varies—either 1 or 3 meters for a springboard, and 5, 7.5, or 10 meters for platform. There are six types of dives divers can perform: forward, back, reverse, inward, twisting, and armstand.
Age kids can start: 4 (to learn real swimming strokes); prior to that, the American Academy of Pediatrics recommends water safety/swimming, readiness classes. Swim teams begin accepting kids as young as 5 (once they can swim a length of the pool unassisted).
Kids can begin to compete in USA Diving Learn-to-Dive events at 5 years old, too, as long as they are confident swimmers.
Skills needed/used: Aerobic capacity; motor skills and coordination. Swimming provides both an aerobic and anaerobic workout. Competitive events include sprints as well as endurance races. Participating in a swim team teaches teamwork and sportsmanship. Divers need flexibility and determination (and some fearlessness).
10 Rules of Sportsmanship for Kids
Best for kids who are: Self-motivated, disciplined, and who love the water!
Season/when played: Year-round, as long as an indoor pool is available. High school and college swimmers compete in the winter.
Team or individual? Both. Kids can swim on their own anytime; as members of a team, they race in individual events and/or as part of a relay team, accruing points for their club team. Divers can compete individually or as part of a pair in a synchronized diving event.
Levels: Typically, kids swim in age groups of 10 and under, 11 to 12, 13 to 14, 15 to 16, and 17 and 18. Meets may also include events for kids 8 and under or for adults. Many colleges and universities also have competitive swim and dive teams, and amateurs can continue competing into adulthood. The very, very best swimmers and divers compete in the Summer Olympic Games.
For USA Diving events, kids are grouped by age: 11 and under, 12-13, 14-15, and 16-18.
Appropriate for kids with special needs: Yes (for swimming, more so than diving). Coaches can work with kids and adults who have various physical and mental disabilities.
Swimming can be a good sport for kids with medical conditions or special needs. For example, the moist, humid environment of the swimming pool can be good for kids with exercise-induced asthma, allowing them to participate in exercise more easily than they might outside.
Olympic superstar Michael Phelps has attention deficit disorder (ADD) and found swimming to be a great confidence-builder. Its rhythmic, repetitive motions can be calming.
Fitness factor: High, for team practices or individual workouts; swimming is a full-body, cardiovascular exercise. In lessons, watch out for the instructor/child ratio. If there are too many kids, your child may spend a lot of class time sitting on the side of the pool waiting for his/her turn to swim.
Diving does not burn as many calories as swimming does, but requires flexibility and strong leg, back, and core muscles (gained through both pool and dry-land training).
Basic Equipment Needs
Swimming does not require a lot of equipment, but you'll need to invest in:
· Swimsuit
· Goggles
· Swim cap
· Towels
· Padlocks
· Flip-flops
· Team gear (t-shirts, warm-up suits, etc.)
As swimmers progress, they add dry-land workouts using free weights or weight machines. Some clubs may require swimmers to have their own practice equipment (such as fins or kickboards).
Costs: Club/team memberships range from $300 to $600 for beginners to $1000 to $1500 or more for elite swimmers. USA Swimming membership is $54/swimmer/year. Meets costs extra: $4 to $5 per individual event, plus a small entry fee, for a typical total of about $50 (plus travel costs). Many clubs require parents to volunteer their time at meets or else pay an additional fee.
Time commitment required: For swim lessons, once or twice a week for 30 minutes; or 30-60 minutes a day for one to two weeks in a row. For competitive swimming and diving, kids under 10 may practice two or three times a week for 45 minutes. As they move up the ranks, swimmers' practice time increases (up to 18 hours a week for elite swimmers). A meet can easily last for several hours or an entire weekend.
Potential for injury: Low, since this is a very low-impact sport. Drowning is always a risk anytime a child is in the water, but any reputable coach or team will have rigorous safety procedures in place. As with any sport, repetitive stress injuries (in this case, to the shoulder, knee, and hip) are possible if a child specializes too early or intensively. You can get a tip sheet on preventing swimming injuries from the American Orthopaedic Society for Sports Medicine.
Diving is a little more dangerous; risks result from the impact of hitting the water or from hitting the board itself. However, recreational diving is much riskier, with dangerous back or neck injuries caused by diving in shallow water.
Find Swimming Lessons, Clubs, and Teams
· YMCA of the USA
· American Red Cross Learn to Swim classes (contact your local American Red Cross chapter)
· USA Swimming list of local swimming committees; click on your region to find teams
· USA Diving club finder
Associations for Diving and Swimming Competition
· USA Swimming (sanctions meets across the country, as well as national and international events)
· USA Diving
· American Red Cross (certifies swimming instructors and lifeguards)
If Your Child Likes Swimming, Also Try
Track and field, bicycling; other water sports such as water polo or synchronized swimming; paddle sports such as kayaking or rowing.